Skip to Content
Training Intensive FAQ
For Actors, Directors, Teachers With the Longest-Running Michael Chekhov Teacher Certification Program in America!
The National Michael Chekhov Association is offering the most comprehensive and refined pedagogy worldwide intense training with Wil Kilroy and Lisa Dalton, at various universities around the country. The curriculum is thematically structured with integrated units in three parts: exercise, improvisation, and scene application. We are very excited about this as it means as soon as you learn each tool, you will have a chance to try improvising with it and then immediately rehearsing your scene. Your final scene showcase will allow you to present your scene twice! There will be one group of 20 maximum and classes are team-taught, consecutive, and aggregate. There are new support and training materials to help retain the information and ample notes for the work.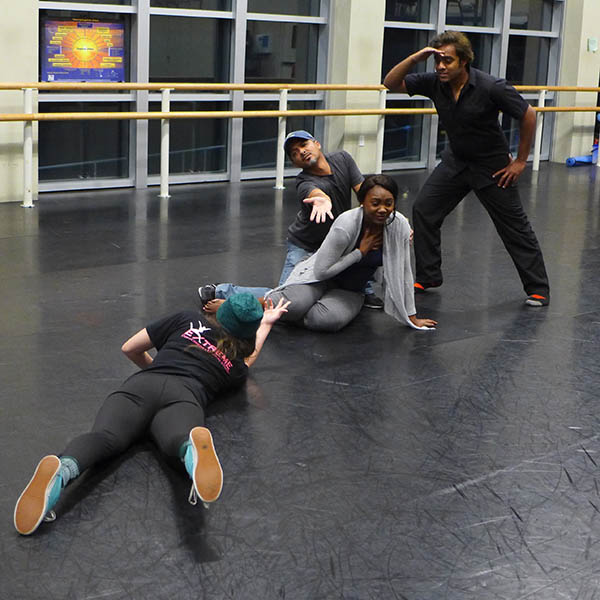 Daily Intensive Themes
Day 1: CHEKHOV as a Foundation for Your Art
Day 2: Unity of Imagination and Body- Psycho-Physical Education
Day 3: Sensational Feelings-a Healthy Path to Emotions
Day 4: Transformational Characterization
Day 5: Unifying With Psychological Gesture
Day 6: Synthesis With Our Audience
Day 7: Radiating Chekhov to the World (For Certification Candidates)
Certification Candidates have an extra day and year-round support is available.
Actor participants are invited to attend and play with the Certification Candidates.
Why take the NMCA Chekhov Training Intensive?
Imagine being able to understand the mystery of what you do through peak performance research in acting, science, medicine, sports, and other venues. Upon understanding what it is you do instinctively in those amazing "high" points, you can then call upon those resources at any time.
Imagine capturing all the multitude of elements of time, place, and event into one single image. That is Atmosphere. One single point of focus triggers the "flow."
Imagine doing one movement with your body and imagination that instantly transforms you from your casual everyday self into the thoughts, feelings, desires, and body of the character. That's The Psychological Gesture. One moment you are hanging out at Craft Services, and the next moment, you are fully in character delivering a mesmerizing performance. You are turning it on and off just like a Champion boxer does. This creates the most efficient use of energy – a concept always present in Peak Performance. Can you imagine never having to hang on to the character unnecessarily- never fearing not finding it again?
Imagine your life as a performing artist being completely free of ever worrying about whether you are going to "Feel" the moment! Use Michael Chekhov's Sensations and Qualities for a pain-free consistent and reliable emotional life. Did you know that five minutes spent recalling a frustrating event in your life lowers your immune system for over 6 hours (www.heartmath.com)!
Imagine knowing that the healthier your life is, the more likely you will be to recognize and express your instincts! No more worry about needing a lousy life in order to have memories to resource. Use your limitless imagination to "act, my dear". After all, does Bambi, Nemo, or Shrek have a real past to recall? NO–they are cartoons…and still, they awaken our deep emotional responses. Did you need to recall your past when you played as a child? NO–you turned your superpowers off and on like a faucet. Restore your childlike flexibility of imagination.
Imagine stepping in front of a blue or green screen with no real partner and acting fully and confidently.
Imaginary Body, Centers (used by Helen Hunt, Marissa Tomei, Clint Eastwood), and other Characterization tools use Chekhov's imagination techniques.
Lisa is one of the most talented acting coaches I have had the privilege to work within a long time. her techniques, passion, and love for her work not only prepared me for my auditions but released the fear so I could truly live in the moment and as a result, booked two Theatrical Release Film roles in 3-months. I continue to recommend her to my peers as one of the most gifted coaches in our industry.
-Mary Jean Bentley, SAG Actor-Producer
All of These Imaginings Can Be Real Whenever You Are Ready to Make That Happen!
The best way to begin mastery of these amazing tools used by Hopkins, Depp, and many more, such as Psychological Gesture and Atmospheres, Transformational Characterization, and range of Styles is through the Foundation Course.
Michael  Chekhov's unique contribution to acting has been one of the best-kept secrets of the theatrical world. Born in 1891, Michael, nephew of Anton Chekhov, famed author, and playwright, became one of Russia's Most Honored Actors. Constantine  Stanislavski considered Misha his most brilliant pupil. He is often considered to be the finest actor Russia has ever produced. By 1928, as head of the  2nd Moscow Art Theater, Chekhov's innovative directing and teaching had provoked such severe criticism by the Communist government, he was forced to flee the country for safety.  In time, he came to America where he published his training methods. Michael Chekhov was deeply respected by his peers, Stella  Adler, Sanford Meisner, Lee Strasberg, and Harold Clurman. Some of his students included James Dean,  Anthony Quinn, Jack Palance, Gary Cooper, Patricia Neal,  Gregory Peck, Clint Eastwood, Marilyn Monroe, Lloyd Bridges, Elia  Kazan, Yul Brynner, and Jack Nicholson. Today schools and theatres across the globe are excited to include Chekhov training.
Some contemporary actors who have used this technique include:
Johnny Depp, Anthony Hopkins, James Spader, Helen Hunt, Marisa Tomei, Jodie Foster, Sharon Gless, Jimmie Smits.
Acting beginners who want to quickly learn to act with a full set of emotional skills.
Professionals wanting to deepen their experience and training.
Teachers wanting to extend their training methods to help students find their place on stage. 
Directors wishing to acquire rapid communication tools and dynamic rehearsal techniques.
Persons interested in expanding themselves and gaining a greater understanding of humans.
YES, the intensive culminates in a scene showcase the 6th evening. This is an open performance. Invite your agents, friends, and family.
Info About NMCA Pedagogy & Faculty
Enroll to Learn the Material or to Learn to Teach the Material
The National Michael Chekhov Association(NMCA, Inc.) is dedicated to developing solid pedagogy for this fascinating actor/director training system. Since 1994, NMCA, Inc. has offered an intensive instructional approach that encompasses a tried and true system of communication with artists founded on Michael Chekhov's Chart for Inspired Acting. This Chart was personally made for Walk of Fame Honoree, Mala Powers, who co-founded NMCA, Inc., and this teaching structure with Prof. Kilroy and Ms. Dalton. The late Ms. Powers was a close personal friend of Mr. Chekhov and executrix of the Chekhov Estate. She was the only direct student who was privately coached on her starring roles and who subsequently became a teacher of the work. This NMCA training carries on the tradition co-created by the late Ms. Powers and is unique in its thorough integration of applications for all media and the scope of training styles throughout Chekhov's ever-evolving personal style. Lisa Dalton and Wil Kilroy are both active actors / teachers / directors on stage and on camera.
Professor Kilroy is the Theater Department Chair of New Mexico State University and professor emeritus at the University of Southern Maine and brings an in-depth knowledge of academic concerns along with his professional experience in Los Angeles, NY, and New England. His stage productions have been selected for performances at the Kennedy Center's American College Theatre Festivals, and he has been a recipient of their bronze medallion.
His specialty areas of actor training include stage movement and voice, with additional certification in fitness training. Having originally worked with the late Blair Cutting at New York's Michael Chekhov Studio, he emphasizes a creative approach to character development and improvisation.
Ms. Dalton, since 1976, has sustained a career acting/directing/teaching in New York, Los Angeles, and Texas, winning awards for stage acting and film directing. A co-founder of the International Michael Chekhov Workshops and creator of the first two held in the United States, Ms. Dalton was the only English-speaking teacher to teach at the International Michael Chekhov Symposium at Sorbonne, Paris in Sept. 2007. Her clientele are series regulars and film stars, as well as faculty at major universities, in the US and Europe. She currently resides in Fort Worth, TX. Her recent guest teaching includes SAG/AFTRA's ProACT organization, KCACTF, TCU and the Actors Movement Studio in NY. Lisa continues to produce training media and contribute documentary materials, most recently for a Russian TV special on Michael Chekhov. Having studied with 10 direct students of Mr. Chekhov her specialty areas include Chekhov's psychophysical training, script analysis, and synthesis into various media.
From Charles Bowles, NMCA Executive Director
Last year I had the occasion to become a de facto online advisor to a young man who was bitten by a passion to become an actor, an artist of free expression, in a distant country where training is sparse and acting is very regimented. But this man found the teachings of Michael Chekhov and began to read and study on his own. Through my presence on the Chekhov.net website, he reached out to me. I tried to put him into several other teachers of our NMCA Chekhov pedagogy, but he persisted in reaching out to me with questions.
These questions were deceptively simple in their initial form, and yet on further review, they could become very complex. Sometimes it takes a very simple-minded person (and I do not mean dumb here, but rather rudimentary in understanding to create the questions that cause one to have to think hard about a proper answer) to create a useful dialog. We have carried this dialog out for over a year and I find his questions a mix of basic Chekhov technique understanding and very practical application to real-world situations, whether on-stage or on a film set. So these questions and their answers are presented here in hopes that they may offer useful consideration to others.
Contact NMCA to Discuss a Membership or Training